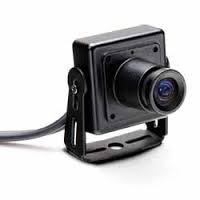 HE/Black Hi-Res Micro Square Camera
$259.00
Description
Additional information
Comparo HD Software
Description
Our fantastic high quality micro square camera delivers super high-quality video in a tiny package (22 x 22 mm), small enough to hide behind the rear view mirror when mounted on the windscreen. Super lightweight, easy installation. 700 TV lines for ultra-clarity.
Camera is terminated with 10-foot cable for connection to Race-Keeper system (10-foot extension cable available. Includes mounting bracket and double-sided 3M VHB mounting tape for quick installation on wind screen or other clean surface.
More details on the Race-Keeper Hi Res Micro Square Camera
Dimensions (mm): 22 (L) x 22 (W) x 11 (H)
Horizontal resolution: 700 TV lines (high-resolution)
Mounting method: Integrated bracket secured with 3M VHB bonding tape
Mounting location: Secure on any clean surface
Specifications
Video format: NTSC
Image sensor: 1/3″ Sony ICX638 Super HAD CCD
Scanning system: 2:1 interlace
Total pixels: (H) 811 x (V) 508, 401K
Electronic shutter: 1/60~1/100,000 (auto)
S/N ratio: Over 45 dB AGC Off
Video output: 1 Vp-p, 75 Ohm
Back light comp.: Yes
Auto white balance: Yes
Gamma correction: >0.45
Sync mode: Internal synchronization
Power source: DC12V ± 10%
Power consumption: 90mA maximum
Operating temperature: -10°C ~ 45°C / 14°F ~ 122° F
Storing temperature: -20°C ~ 60°C / -4°F ~ 140°F
Sensitivity: 0.2 lux/F=2.0 (high-res)
Pellentesque habitant morbi tristique senectus et netus et malesuada fames ac turpis egestas. Vestibulum tortor quam, feugiat vitae, ultricies eget, tempor sit amet, ante. Donec eu libero sit amet quam egestas semper. Aenean ultricies mi vitae est. Mauris placerat eleifend leo.
Donec sed tincidunt lacus. Duis vehicula aliquam vestibulum. Aenean at mollis mi. Cras ac urna sed nisi auctor venenatis ut id sapien. Vivamus commodo lacus lorem, a tristique sapien tempus non. Donec fringilla cursus porttitor. Morbi quis massa id mi pellentesque placerat. Nam scelerisque sit amet diam id blandit. Nullam ultrices ligula at ligula tincidunt, sit amet aliquet mi pellentesque. Aenean eget fermentum risus. Aenean eu ultricies nulla, id bibendum libero. Vestibulum dui augue, malesuada nec tellus vel, egestas condimentum ipsum. Vestibulum ut.