HDX2 The Ultimate Video-Logging System
Race-Keeper HDX2 is the world's first multi-camera 1080p HD video data logger and it's available now in the Race-Keeper store.
Two years in development, Race-Keeper HDX2 combines the power of true 1080p high-definition multi-camera video with automatically synchronized data in one easy to use system. Race-Keeper HDX2's video is comprised of two full resolution, 1080p, video streams for unmatched video capability and performance. Race-Keeper HDX2's logger combines a high performance GPS, accelerometer and gyro with vehicle inputs to provide a full spectrum of data for comprehensive analysis. As with all Race-Keeper systems, video and data are always automatically synchronized for fast and easy review using Race-Keeper Comparo HD analysis software.
Say Goodbye to Jello: Video from most onboard HD cameras have distortion caused by vibration, often referred to as a 'jello effect'. Race-Keeper HDX2's 1080p cameras have an onboard image stabilization algorithm which reduces the distortion to give a rock solid, crystal clear, distortion free image.
Fully Automated: Like all Race-Keeper systems, HDX2 is fully automated. Unlike other HD systems, HDX2 gives you the power to never fiddle again with separate HD cameras, batteries and SD cards or starting and stopping individual cameras. Race-Keeper HDX2 is fully automated and can be programmed to automatically power up when the car is started, start recording when you leave pit lane and stop when you shut the car off.
Quick and Easy: The video and data is recorded to a single removable SD Card or USB thumb drive for fast & easy review. Using Comparo HD, Race-Keepers side-by-side analysis software, simply import & open the file and you're done.
Dual Stream: Race-Keeper HDX2 features Race-Keeper's unique Dual Stream technology. Each of Race-Keeper HDX2's two, 1080p, HD cameras record a full size, 1080p, video stream. Each of the two streams play back together in Race-Keeper Comparo for an uncompromised view of the track, the driver or anywhere else you may want to point a camera.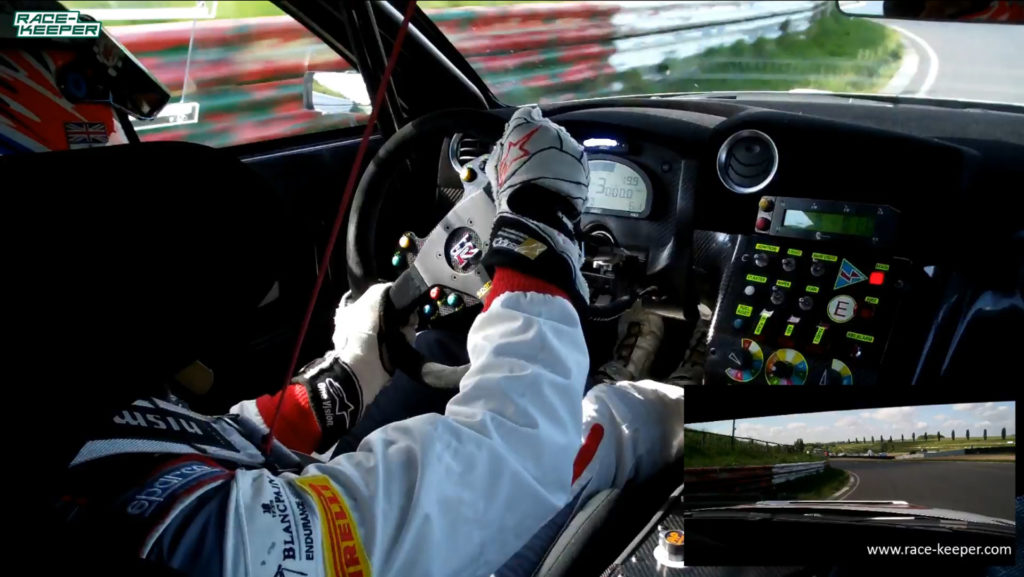 HDX2 Specs
1080p/30 fps or 720p/60fps for brilliant, broadcast quality video
True Dual Stream HD video for comprehensive video coverage (track, cockpit, rear)
Image Stabilization for rock solid image quality
MPEG-4 video file plays in all popular media players
20 Hz GPS for accurate lap times, splits and track mapping
3-axis internal accel for lateral, inline and vertical G data
Internal gyro for roll, pitch and yaw data
Three (3) USB ports for easy connection to additional inputs/outputs
1GB Ethernet port for high speed network connection
Two (2) CAN ports for logging vehicle CAN data and for other CAN devices
Records to removable SD, USB or USB3 for fast and easy off-loading
Small, lightweight, rugged, waterproof construction for harsh environments
Sealed, locking connectors to ensure reliable operation
Waterproof Bullet Cameras with ¼-20 mounting lugs for easy internal or external mounting
HDMI video output for live display, playback and easy camera setup
Programmable power-on, start/stop recording for truly hands off operation
---
HDX2 Pricing
Easily compare the specification and pricing of each different HDX2 configuration.