Road-Keeper HD The Ultimate Video and data Logging System for road cars, race cars, off-road racers, race boats, helicopters, aeroplanes, and anything else that goes fast and tears it up!
Our latest innovation in video data systems is the Trivinci Road-Keeper system for recording dual-stream 1080p full HD video and audio along with GPS and accelerometer data.
Road-Keeper is fully compatible with our Race-Keeper Comparo video data analysis application; this will allow you to use the same applications that the Pros use for reviewing, analyzing, comparing, and exporting video and data from your video data logger.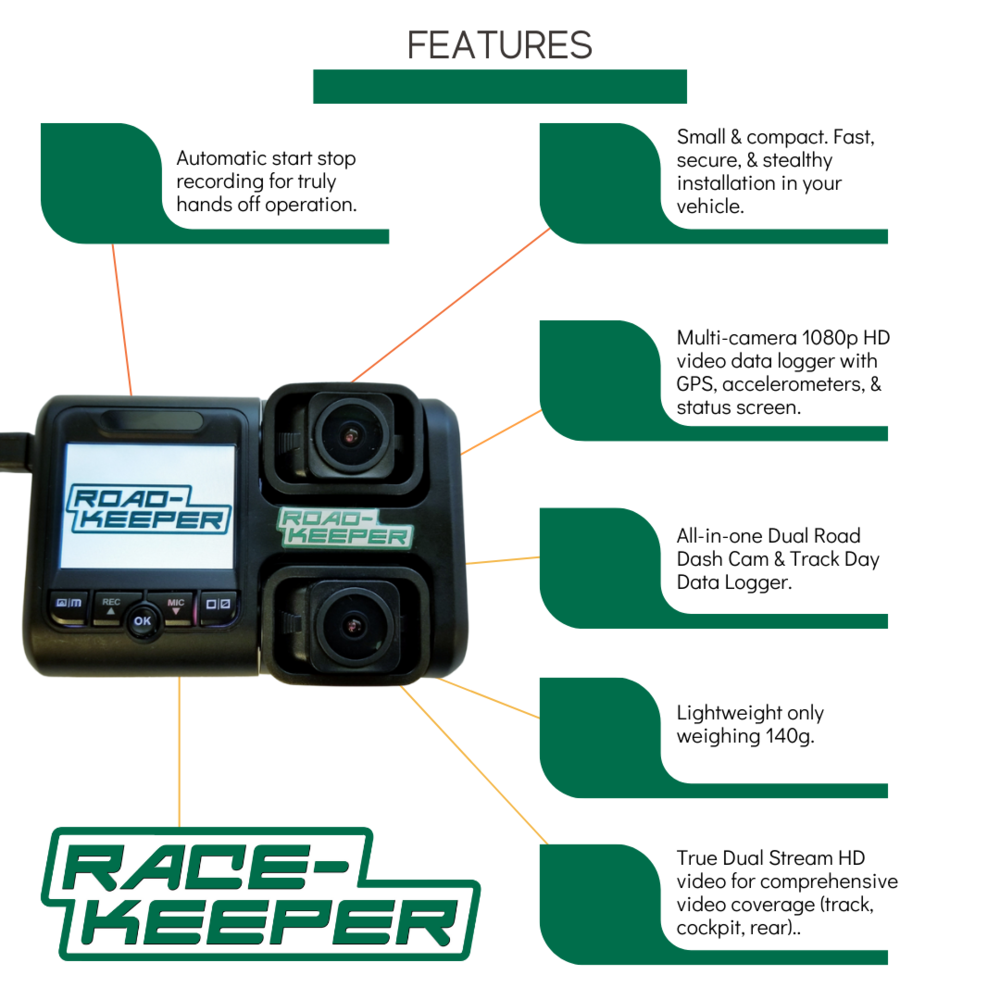 Use Road-Keeper on the road or at the track – the cyclic logging will ensure you always capture the latest action no matter where it happens. Never worry about deleting old videos, they will be automatically overwritten when space is needed with the Looping record more enabled.
The compact unit contains both 1080p HD cameras, GPS, accelerometers, and a status screen. This allows for a very secure and stealthy installation in your vehicle.
Both cameras can be adjusted vertically and horizontally to capture the perfect view.
In-car audio is recorded onto the video streams, the microphone can be muted for privacy by pressing the Mic button on your Road-Keeper.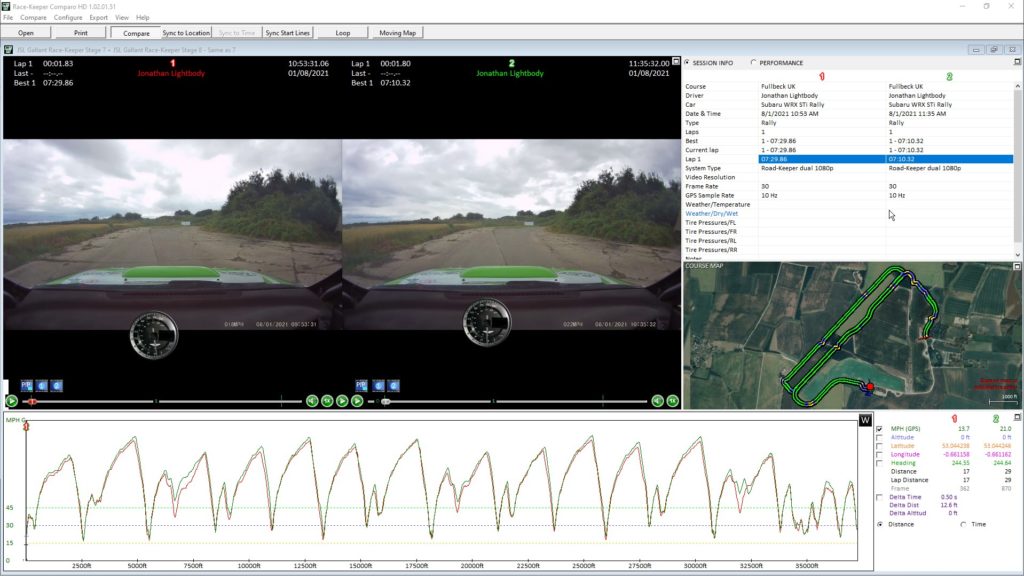 A second version of the Road-Keeper with a rollbar mount is available. This version can be mounted to any diameter rollbar in your race car and comes with remote GPS on a 10ft cable to allow the antenna to be roof-mounted for improved GPS reception.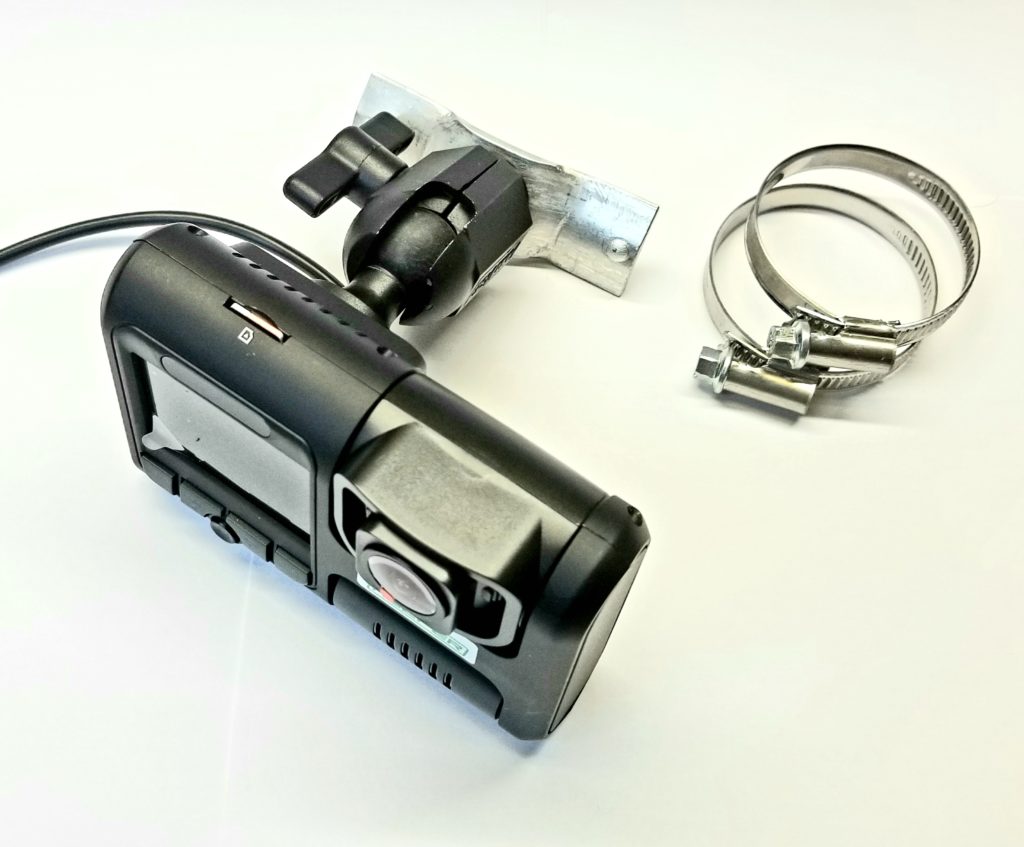 Road-Keeper HD Specs
2 cameras with 1080p/30 fps resolution for brilliant, broadcast-quality video
True Dual Stream HD video for comprehensive video coverage (track, cockpit, rear)
Fully Compatible with Race-Keeper Comparo Video Data analysis PC software
MPEG-4 video files will also play in all popular media players
Integrated GPS for lap times, splits and track mapping, remote GPS available
Records to removable microSD for Instant off-loading
Small, lightweight, compact construction for tidy fast install
Automatic start/stop recording for truly hands off operation
Start and Stop on Speed recording or Manual Start recording functions also selectable
Road-Keeper automatically locks and saves outings where a high-G event occurred
Auto delete of old outings as space is required on the microSD card (Looping Mode)
Road-Keeper HD weighs in at only 5oz, or 140g. (Other model weights vary)
The operating and storage temperatures for Road-Keeper HD are:
Operating temp range is -10 C (14 F) to +65 C (170 F)
Storage temp range is -10 C (14 F) to +75 C (168 F)
Contact info@race-keeper.com for current promotional offers