Road-Keeper The Ultimate road car Video-Logging System
Road-Keeper is the worlds most cost effective multi-camera 1080p HD video data logger and it's available now in the Race-Keeper store.
Our latest innovation in video data systems is the Trivinci Road-Keeper system for recording dual stream 1080p full HD video and audio along with GPS and accelerometer data.
Road-Keeper is fully compatible with our Race-Keeper Comparo video data analysis application; this will allow you to use the same applications that the Pros use for reviewing, analyzing, comparing and exporting video and data from your video data logger.
Use Road-Keeper on the road or at the track – the cyclic logging will ensure you always capture the latest action no matter where it happens. Never worry about deleting old videos, they will be automatically overwritten when space is needed.
The compact unit contains both 1080p HD cameras, GPS, accelerometers, and status screen. This allows for a very secure and stealthy installation in your vehicle.
Both cameras can be adjusted vertically and horizontally to capture the perfect view.
In-car audio is recorded onto the video streams, the microphone can be muted for privacy by pressing the Mic button on your Road-Keeper.
The Road Keeper kit includes a 32GB micro SD card with SD card adapter, for recording all the action around and in your vehicle on the race track and on the road.
Also included are the following parts:
Cigarette lighter plug 12v power cable – Long
PC USB cable
Mounting bracket, with spare 3M VHB adhesive pad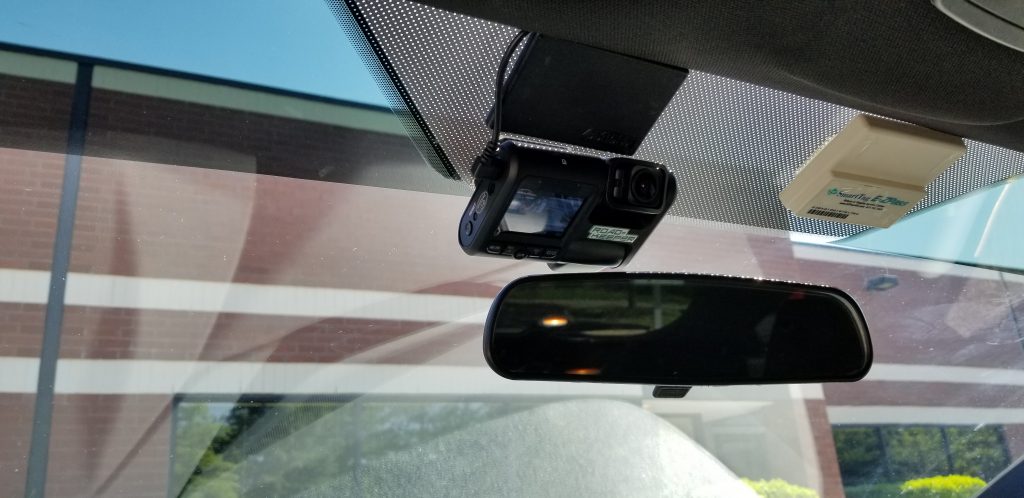 Road-Keeper Specs
1080p/30 fps or 720p/30fps for brilliant, broadcast quality video
True Dual Stream HD video for comprehensive video coverage (track, cockpit, rear)
MPEG-4 video file plays in all popular media players
Integrated GPS for lap times, splits and track mapping
2-axis internal accel for lateral, inline G data
Records to removable microSD for fast and easy off-loading
Small, lightweight, compact construction for tidy fast install
Automatic start/stop recording for truly hands off operation
Road-Keeper automatically locks and saves outings where a high-G event occured
Auto delete of old outings as space is required on the microSD card
Fully Compatable with Race-Keeper Comparo Video Data anaylsys PC software
Practical User Information
Video is recorded in full 1080p 30fps for Both Road-Keeper cameras. We record both streams at full HD res so you get the full picture and can choose how you view the videos and data in Comparo after the outing. (Other systems with more that one camera record two cameras view into one video with the second camera as a small picture in picture, with no chance to either move that PIP video if its blocking something important in the main view, or to enlarge that pip view to see more detail in it)

Recording time: 3.6GB per 20 mins ( 10.8GB per hour)
There are two HD video files recorded at the same time (1.8GB each for a 20 min recording)
We have a new menu for the Recording mode. Auto – Records when powered up, Manual – Press the record button to start and stop, and Start/Stop on Speed – Select a speed to start recording and also select a delay for stop recording. Currently, we have set the Max stop recording delay to 120 seconds.

You can use either a micro SD or Standard SD card (with the use of an adapter cable) to record your videos.
Max card size is 128GB.
This will allow the Road-Keeper to record for more than 10 hours. In Looping mode, old recordings will be deleted to make space for new recordings. But If looping mode is turned off the recording will stop when the card is full.
See the User Guide here:
Road-Keeper User Guide1.4.pdf
---
Road-Keeper Pricing
One system, One price, Easy!.
Road-Keeper Dual HD Video Data Logger

$399
Dual 1920 x 1080p HD Camera
32GB microSD card included
Integrated GPS
Great price
Buy Now