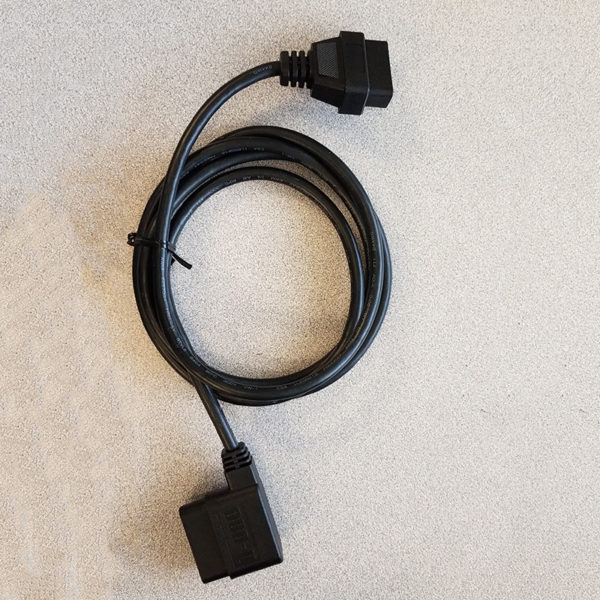 OBDII Extension Right Angle
$35.00
Description
Comparo HD Software
Description
The Race-Keeper OBD II Extension Cable is an extension cable with a male to female OBD II connector.  This cable makes it possible to mount the Race-Keeper OBDII module in a location away from the driver's knees and feet.

The cable is made of durable thermoplastic rubber. All pins are connected. 

This version has a Right Angle OBDII plug that plugs into your vehicles OBDII port. A straight version is also available.
Features

Molded OBD II (SAE J1962) male connector, for Type A (12 Volt) as well as Type B (24 Volt).
Molded OBD II (SAE J1962) female connector, for Type A (12 Volt) as well as Type B (24 Volt).
Made of durable thermoplastic rubber
Gold plated pins on OBDII connectors for extra reliable contact.
Pellentesque habitant morbi tristique senectus et netus et malesuada fames ac turpis egestas. Vestibulum tortor quam, feugiat vitae, ultricies eget, tempor sit amet, ante. Donec eu libero sit amet quam egestas semper. Aenean ultricies mi vitae est. Mauris placerat eleifend leo.
Donec sed tincidunt lacus. Duis vehicula aliquam vestibulum. Aenean at mollis mi. Cras ac urna sed nisi auctor venenatis ut id sapien. Vivamus commodo lacus lorem, a tristique sapien tempus non. Donec fringilla cursus porttitor. Morbi quis massa id mi pellentesque placerat. Nam scelerisque sit amet diam id blandit. Nullam ultrices ligula at ligula tincidunt, sit amet aliquet mi pellentesque. Aenean eget fermentum risus. Aenean eu ultricies nulla, id bibendum libero. Vestibulum dui augue, malesuada nec tellus vel, egestas condimentum ipsum. Vestibulum ut.