2023 SCCA National Championship Runoffs
Angus Mackenzie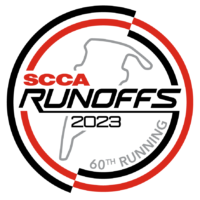 Race-Keeper/Road-Keeper 2023 SCCA National Championship Runoffs® Contingency and Special Purchase Programs
It's time to start getting ready for the SCCA Runoffs again! Where did the last year go?!
2023 SCCA National Championship Runoffs® September 23-October 3, at VIRginia International Raceway in Alton, Virginia
Live Stream from SCCA Runoffs 2022 at VIR

Trivinci Systems LLC is proud to announce that we will be official 2023 SCCA National Championship Runoffs® Contingency Sponsors, offering cash prizes for drivers finishing in the top three places in any race who have registered for the contingency program, and have 3 prominently placed Race-Keeper decals on their vehicle.
Payout Schedule:
1st place: $300
2nd place: $150
3rd place: $75
The SCCA has a requirement for forward-facing cameras, (Supplemental Regulation 9.18); So to help you get a fantastic camera system into your race car before the Runoffs, Trivinci is offering special 2023 National Championship pricing for Road-Keeper HD video data systems of $324, regularly $399, (plus shipping).
See our Road-Keeper systems by clicking here
The system comes with a power cord that fits into a standard auto power outlet. We also offer a direct connect power cord with a regulator that can be hard-wired to the car's electrical system.
The recommended mounting for the system is the Road-Keeper Suction Cup mount. (It can be tethered to the roll cage to comply with video mounting rules in the GCR. Alternately, the roll bar mount version of the Road-Keeper HD can be attached to any roll cage.
To order a Road-Keeper system, go to the Race-Keeper.com website. To take advantage of the special pricing apply the coupon code scca2023ro75 when checking out.
Road-Keeper HD Roll bar mount version
Race-Keeper Decal Requirements:
•No competing decals.
•Decals Required: YES
•# of Decals: 3
•Location: One on each side of the vehicle near the car number and one on the hood.
•Availability: Decals will be mailed to you when you register or will be available onsite.