Zotz Racing HPDE Open House 2020, Orlando, FL
Angus Mackenzie


The 2020 Zotz Racing HPDE Open House was a great success on Saturday. Many experienced racers, as well as lots of new racers, joined Ron and Eric Zitza for a day of learning and information sharing.
Angus Mackenzie, Race-Keeper, was at the event to chat with racers about the Race-Keeper Video Data systems currently in use in most of the Zotz Racing prepared Porsche race cars, as well as to introduce the new Road-Keeper HD low-cost dual camera HD video GPS logger.
THE ZOTZ STORY
Ron's dad, Harro Zitza, started Zotz in 1959. Harro taught Ron and his grandson Eric Zitza to build engines.
As the owner of Zotz Racing and Zotz Autowerks, Ron Zitza, has been working on Porsches for over 45 years.
Ron is a 1981 UCF graduate who started racing at age 18 in a 1957 Porsche Speedster.
He has won many titles, championships and races, such as the 2000 Rolex Daytona 24 hours, 2006 SCCA 13 hour enduro at VIR, 1999,2003,2007,2008 Historic Enduro Champion, 2008 Classic GT Champion, SCCA National Division Champion in 1992 & 1996.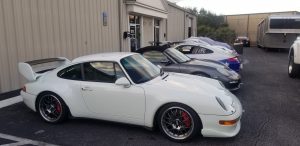 He has the SCCA GT2 track record at Daytona International Speedway set in 1994 (and still holding). Ron also has the track records at West Palm Beach Fairgrounds, Roebling Road, Sebring short track, Sebring 12 Hour course, and Moroso Speedpark. He is the Track Orientation Instructor for HSR, and the Director of Instructor Training for the Florida Citrus Region PCA.
Ron races in HSR,SCCA,SVRA,PCA, and PBOC, while co-driving with many of the Zotz customers. He has a 914-6 for racing and a 2008 Cayman for date night with his wife.
Contact Zotz Racing here:
www.zotzracing.com
For more information about the Road-Keeper see the Product Page here: